MODERN KUNDAN JEWELLERY IS BRINGING BACK THE CHARM OF CELEBRATED FASHION TRENDS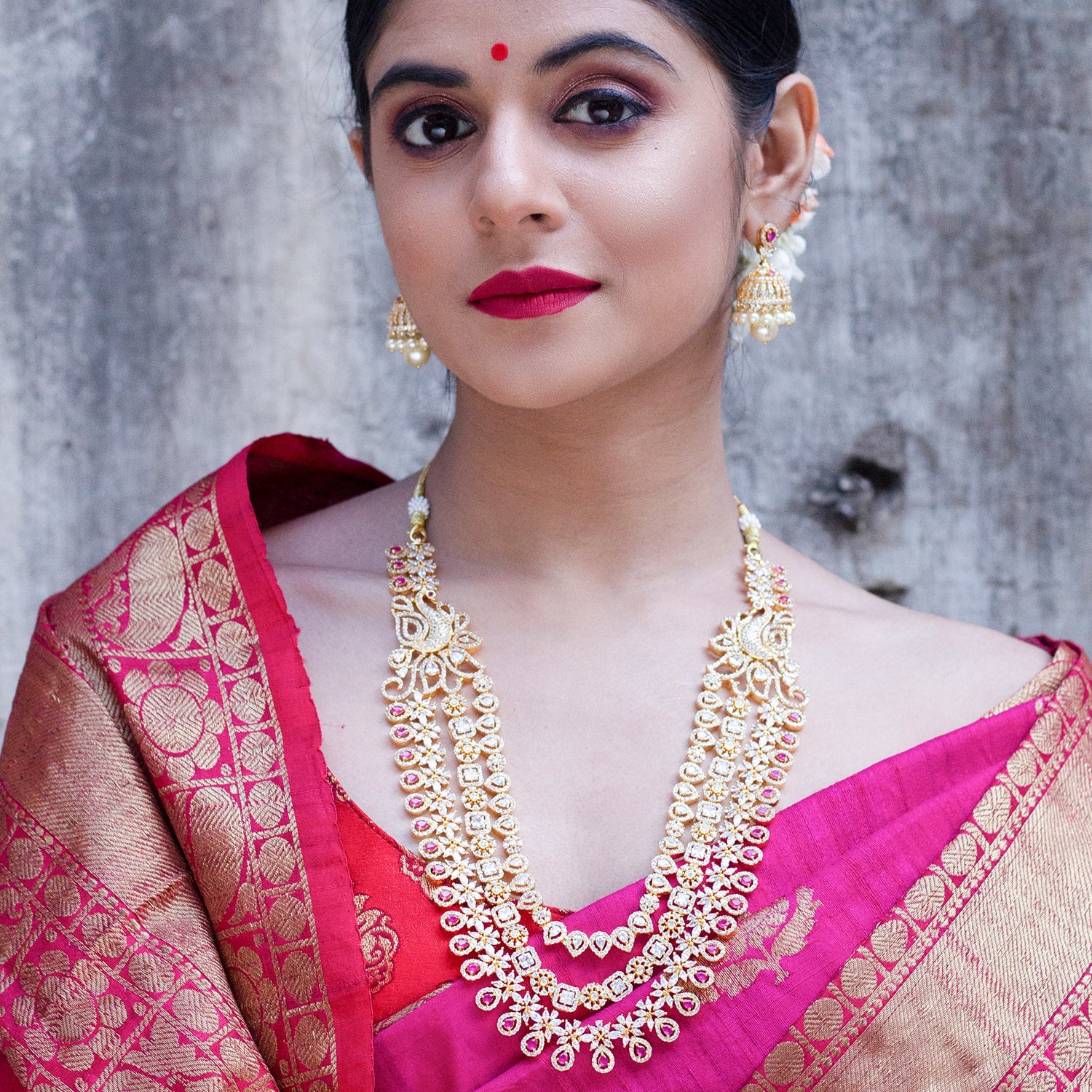 An evergreen trend, modern Kundan jewellery is one of the most sought after jewellery till date for any of the auspicious occasions such as parties, weddings or other cultural festivals in India. Infamous for the brilliant craftsmanship and the enriching lineage, Kundan masterpieces are popular among the young and the aged, alike. When there's no dearth in jewellery available, why is Kundan jewellery outshining any other kind of jewellery?
Before we answer that question, take a moment to look at this sleek piece from our kundan collection! Who said online shopping for fashion is difficult?
The Kundan sets in modern days are combined with the contemporary fashion trends. This jaw-dropping Sasha choker set is an amalgamation of handpicked precious stones and a sublime design combining flower and tear drop motifs. When artificial jewellery for women is currently trending in the fashion world, you can sport this piece to a wedding pairing it with a silk saree or a dinner party with a chic gown!
Did you know, Kundan jewellery that we go gaga over isn't actually from our country! The origin of real Kundan jewellery can be traced back to royalties who visited India thousands of years ago. The Kundan trend flourished widely during the times of Mughals and Rajputs before it began a legacy of its own and gained the pride it is known for today. Jaipur was traditionally the most popular location where people arrived to buy kundan jewellery in the olden times. The fascinating history tied to this style of jewellery along with the extravagant designs that bring about a regal feel, no wonder Indian women can't get enough of Kundan sets! It is certainly a challenge to bring about the beauty of century old kundan jewellery set in the fashion jewellery of today.
Kundan jewellery set for wedding stand out for the precise detailing in each piece. Take a look this oh so stunning piece!
How can anybody not want to adorn this magnificent creation? This Nilaya necklace is one of our personal favourites from the Kundan collection. The carefully placed precious stones, fresh pearls and the intricately detailed motifs come together in this versatile masterpiece. You can pull off any traditional look with this painstakingly made kundan jewellery. 
Kundan pieces are known for being show stoppers and the latest indian jewellery designs of 2022. You can't take your eyes off from these brilliant creations which are appreciated by people from all over the globe! It is still a significant part of the bridal trousseau even today. In the film, Jodha Akbar, you would notice Aishwarya Rai, who plays the role of Jodha, sporting sparkling kundan sets to signify its relevance to rajput royalties during the era.
India is a melting pot of traditional and culture. It has been the greatest producers of gold and other precious stones which are admired widely. Kundan, the iconic indian jewellery, crafted in precious stones, glass and gems goes with any ensemble! You'd find multi hued kundan masterpieces that add a pop of colour to your attire. Featuring our exclusive Vanya Necklace set,
This multi-coloured enthralling piece from our Bridal Kundan jewellery collection can be paired with any outfit of your choice! The elegantly cut stones and one of a kind design makes it eye-catchy and chic. This piece is a contemporary twist to the one of the oldest forms of traditional Indian jewellery.  
The meticulous labour and hardwork that went into creating the Annu choker set, the ultimate epitome of grace and poise is worth appreciating. A lot of Kundan pieces are inspired from nature and beautiful floral designs are one among them that dominates in terms of popularity.
Take a careful glance at the bedazzling Annu choker set! This piece is primarily crafted out of elegant flower motifs embellished in white precious stones. Adorn this beauty to any occasion and it'll do the talking!
At Amaira, we have hundreds of varying trending jewellery collections of Kundan that will make anybody stop and stare. Visit our official site www.amaira.com to explore the age old Kundan jewellery and introduce yourself to tradition passed down from generations.