5 PIECES OF TRENDING JEWELLERY EVERY BRIDE MUST HAVE!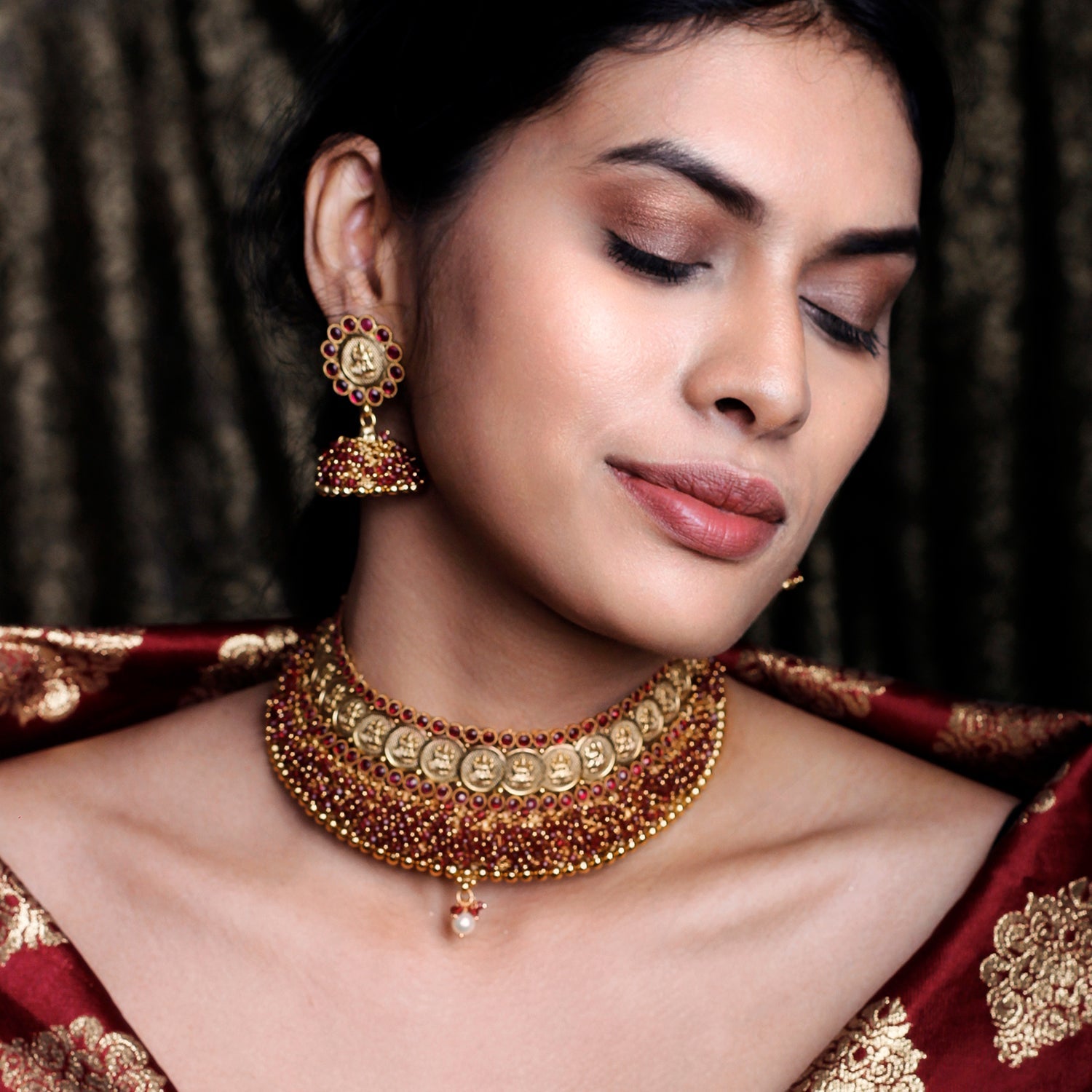 Every girl fantasizes her wedding day. Dolled up in fine clothing and exquisite jewellery, an Indian bride is truly a vision to behold. A lot of thought goes into picking the right kind of jewellery that stands out without stealing the bridal spotlight! Also, when it comes to wedding jewellery, "the more, the merrier" is the mantra. Obviously, there's no such thing as too much jewellery when it come to your special day. Who knew artificial jewellery for women would be insanely trending in bridal shopping too!
There's no denying that weddings are an occasion bursting with emotions. The bride bids farewell to her dear ones to unite with another family and build new beautiful bonds! Taking that into consideration, the bridal jewellery at Amaira is carefully infused in emotions and sheer brilliance. Because we understand, a once in a lifetime occasion should sparkle with once in a lifetime jewellery!
1. Raabta Choker set for the new age bride.
We dare you to take your eyes off from this striking choker set! A fusion of fine precious stones, and the timeless coin designs crafted in a contemporary style, this choker set is undoubtedly a charmer! The new age bride doesn't and shouldn't settle for basic jewellery, when we have statement pieces that never fail to light up any look. We urge you to take a look at the intricate idol of Goddess Saraswati crafted in the elegantly embellished coins on the piece. This is just one among a wide collection of our varied kinds of our choker sets! Online shopping for fashion has never been this easy and accessible.
2. Suramya long Necklace Set, a symbol of charm.
A long necklace is an unavoidable addition to a bridal look! Drifting away from the traditional idea that wedding jewellery should be heavy, we've in store breathtaking pieces for the bride who believes in the principle, "Less is more!" The exclusive Suramya long Necklace is a divine union of tear drop motifs and superior quality precious stones in the classic red and green combination. It's an example of spectacular artificial jewellery catered online for women. This piece is certain to ooze charm in the bridal trousseau!
3. Naayab Neckace set, a celebration of you!
It's mandatory for every Bride should have that one piece of jewellery that stands out from the others. Our offbeat Nayaab necklace is the one you're looking for to add a touch of drama to the overall bridal jewellery collection. The term, Nayaab means unique and as the name suggests, this piece of art is crafted to celebrate the unique you! Escalate your lehenga or saree look on your wedding eve with this bold and timeless piece.
4. Assia Payal to add a tad bit of magic to your steps!
Warning, this Payal might steal your heart in a second! What occasion better than your wedding to unravel the ethereal Assia paayal? On your wedding, you shouldn't miss out on a single chance to look otherworldly as you walk towards the aisle. Embedded with fresh pearls and ornate detailing, the Assia Payal is a scintillating addition to the bride in you. It's without a doubt, a bridal dream come alive!
5. Saanvi Tikka, a reflection of class.
Some pieces of jewellery instantly makes you look like a million bucks the moment you adorn them, such is a Mang Tikka. This tiny piece of mesmerizing jewellery will transform your bridal look effortlessly! Thus, it's important to choose your Maang tikka carefully! Our Saanvi Tikka is a reflection of sheer class. Embellished in flower motifs, this piece will breathe a new life into your bridal avatar. While shopping jewellery for women, look out for this surreal tikka. A break from all the jewellery adorned right from the tip of your toes, this beautiful tikka will add just the right amount of charm on your forehead.
The wedding day has always been and will continue to revolve around the bride! Our priority is to make you feel at the top of the world wearing the sublime creations! However, there's a notion that shopping for stunning jewellery is supposed to burn your pocket. At Amaira, you get to explore thousands of traditional and contemporary pieces of eye-catching jewellery at best prices! Our aim has always been to deliver more than you pay for.
To shop never seen before jewellery for your special day, shop at https://amaira.com/