ANTIQUE TEMPLE JEWELLERY ONLINE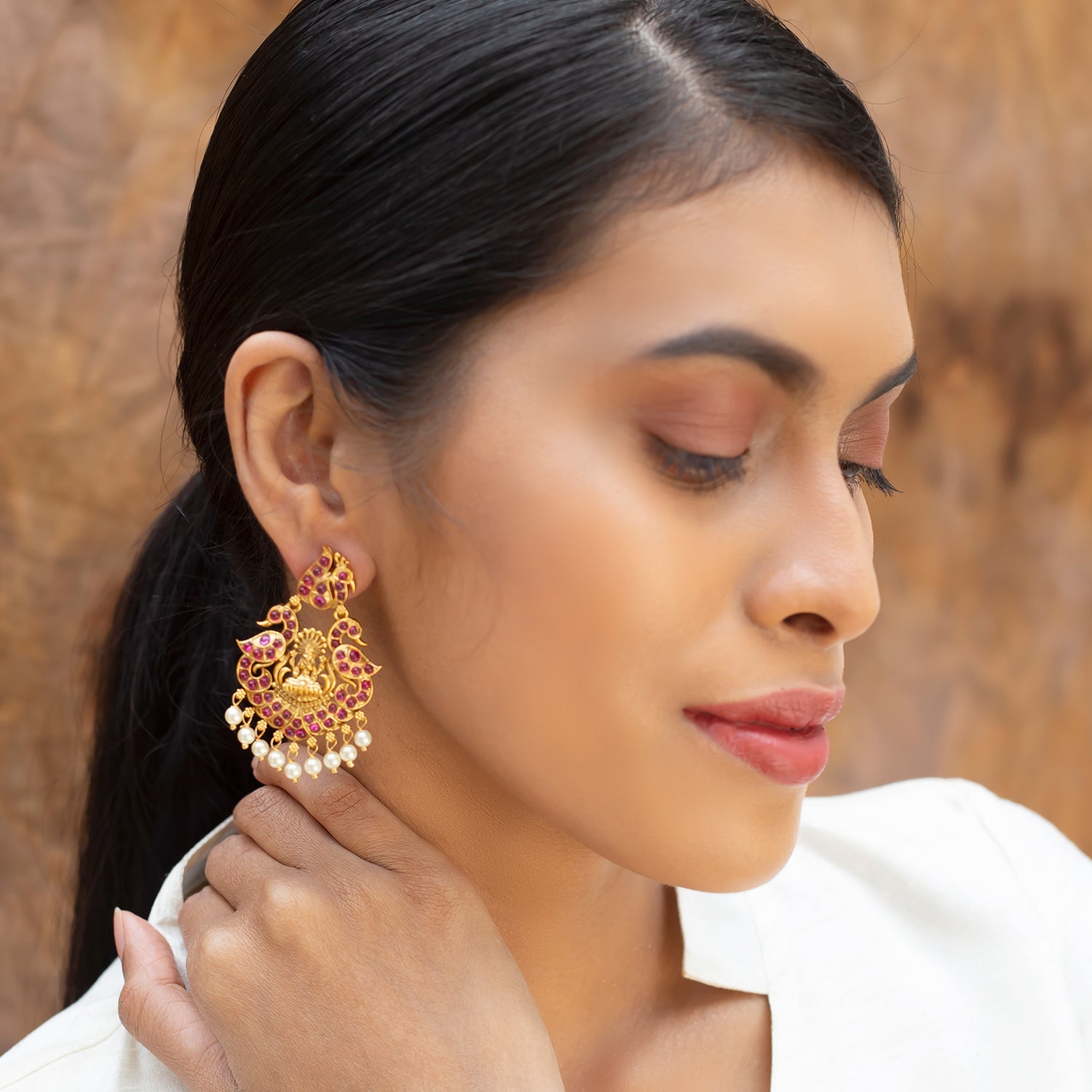 Every woman has a special place in their heart for the charismatic antique temple jewellery. An indispensable addition to any jewellery collection, the classic traditional motifs of gods, goddesses, lotuses, swans and various other intricate elements sets temple inspired jewellery apart from the rest. The origin of this breathtaking line of jewellery is rooted back to the reign of the Chola dynasty. The designs of today's temple jewellery can be seen carved in the century old south Indian temple walls. Temple jewellery was also presented by wealthy devotees to the temples in the olden times as offerings.
Even though south India is the home for temple jewellery, the lovers of the intricate jewellery that falls into this category is scattered over different parts of the world.
Designed to perfection and embedded in precious and semi precious stones, temple jewellery exudes a royal finesse which is valued till this era.
Why don't you take a look at a few temple inspired jewellery designs from our exclusive traditional temple collection?
1. Transform your traditional ensemble with the charming Supriya Necklace set!
Expecting anybody to keep their eyes off from the Supriya necklace should be a crime! A combination of elegant elephant and flower motifs crafted with unimaginable precision, this sublime creation will drive anybody insane. A traditional look is incomplete without this beauty.
2. Go from basic to top notch in an instant with the Kaniksha choker set.
Who doesn't like going a little extra with their outfit! Grab the spotlight on the next occasion with this magnificent choker from our traditional temple collection. This bold piece screams royalty and is undoubtedly the perfect pick for festivities.
3. Ditch the usual, go for the stunningly detailed Nazakat bangles!
Redefine elegance with these enthralling bangles from our exclusive temple bangle collection. The goddess Saraswati motifs engraved in a coin design in these pieces are a result of extraordinary craftsmanship. This treasure is truly a symbol of tradition and royalty. Do you really need a festive excuse to flaunt this piece of art with your attire?
4. Amp up your look with the unmatched beauty of Adrita Hangings!
Embodying pearls, high quality precious stones and minimalistic designs, the Adrika hangings from our exquisite temple earrings collection showcases remarkable charm. You don't even have to wait for an occasion to wear these! Be it a wedding, sangeet, haldi or a simple dinner with your family, they're more than enough to add a touch of bling to any look!
5. Introduce yourself to distinguished elegance with the Avyanna long necklace
Can any piece of jewellery possibly replace the pious of a long temple necklace? Not in a million years! The Avyanna long necklace richly encrusted in fine gold, Saraswati motifs and delicate precious stones is definite to complement any ethnic look. The elaborate design of this necklace is evidently incredible.
6. Look ethereal and dignified sporting the stunning Tulika Head set!
The magic of our Tulika Head set is unparalleled. Sparkling in precious stones and the classic traditional indian motifs, this piece will make you look and feel like a queen! The ornate and detailing add to the elegant and subtle charm of the piece. This head set is a staple to outdo any trending traditional look.
During a time when tradition is losing its spark, the admiration for temple jewellery remains untainted even after generations! Did you know temple jewellery is believed to bring good luck to any auspicious occasion? Why don't you adorn luck and perfection for the next occasion with ancient temple jewellery from Amaira?