MUST HAVE LONG NECKLACE SET FOR SAREE OF THIS SEASON?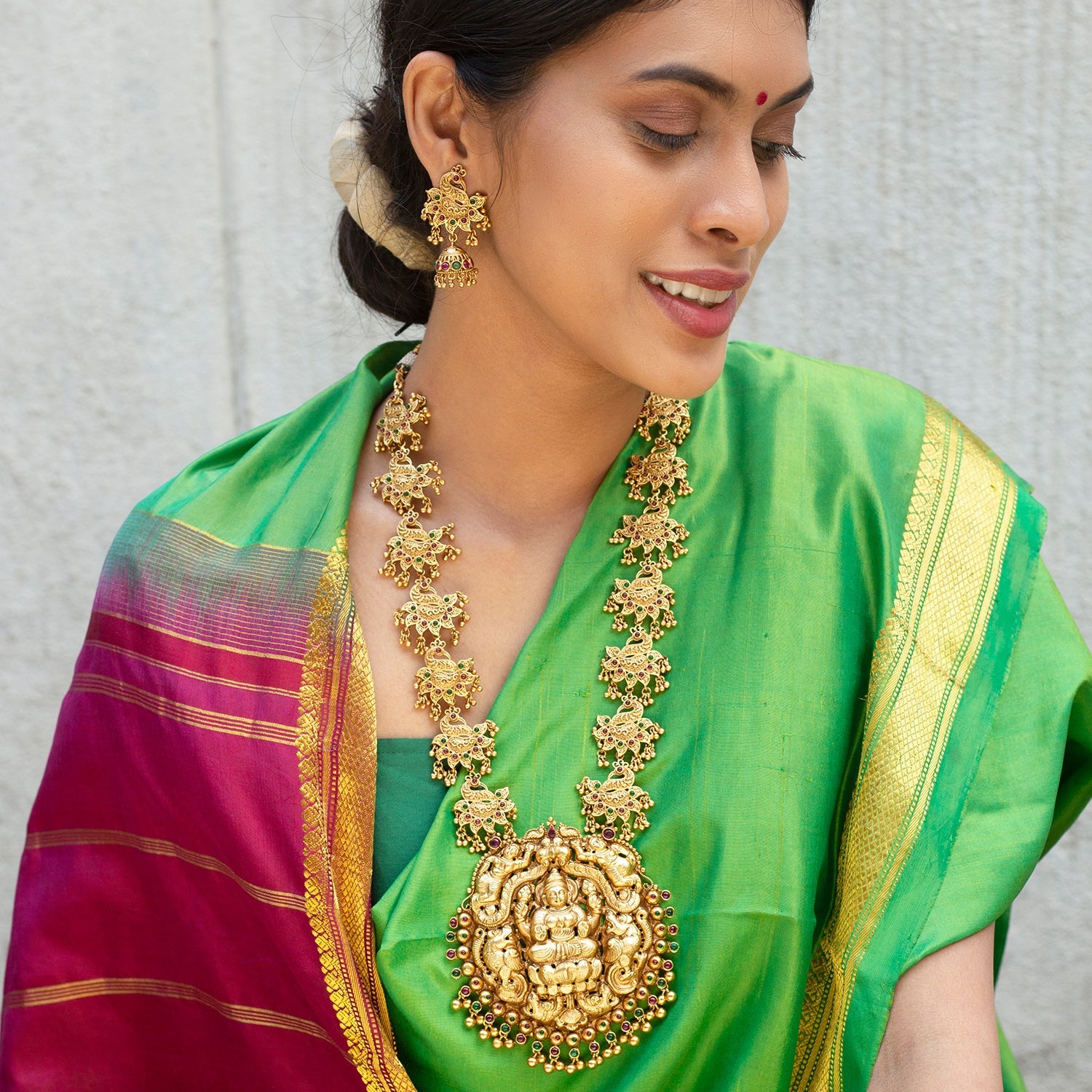 Necklaces will continue to dominate iconic looks till the end of time. The recent runway surveys and trending feeds suggest that Long necklaces of a certain variety are currently in high demand. The magic of long necklaces effortlessly elevates simple plain ensembles to extremely fashion-forward looks. Online shopping for long necklace sets and keeping up with the chic trends is much easier with brilliant online jewellery shopping platforms, such as Amaira.
The trending Long Necklace Sets comprise enchanting maximalist designs, for women who believe, the more dramatic, the better and subtle minimalistic designs for those who follow the classic less is more principle in life.
1. The pretty in pearl Bhagyashree Long Necklace Set
Long Necklaces adorned in pearls are currently taking over the season. Take a look at our sensational Bhagyashree long necklace set graced in countless fresh pearls.
While looking for artificial necklace sets online, you must check out this magnificent creation. The piece guarantees to make a bold statement and leans a little more towards the traditional Indian heritage and culture. The necklace follows the classic age-old design embellished in premium quality stones and motifs in poise. Team this piece with a kanchivaram saree to look out of the world.
2. Moksha Long Necklace Set for a pop of colour!
A hard-to-ignore trend of this jewellery season is the long necklaces for women that add a pop of colour and brighten looks with vibrant hues instantly. Our Moksha Long Necklace Set in the colour red is an absolute stunner!
This necklace comes with the timeless mango motifs engraved in the piece which adds to the element of versatility. Imagine pairing this beauty with a saree in a contrasting colour, you'd look breathtakingly brilliant.
3. The soulful Monica Long Necklace Set!
Long Necklaces with a strikingly detailed locket has been around for centuries. We don't see the trend going out of the picture any time soon! Here's a swoon-worthy Long Necklace Set that'll make you go wow.
Doesn't it reflect the feel of a wedding necklace set? The traditional vibe of the Indian heritage is reflected in this necklace's legendary locket carved in goddess Saraswati and elephant motifs. Embodying the classic coin design, this piece tastefully brings the right amount of drama into your ethnic look.
4. The unreal & minimalistic Renna Long Necklace Set!
Dainty minimalistic pieces are here to stay! As much as one loves drama, nothing can replace the elegance that a simple long necklace set brings to a look.
Can you possibly take your eyes off our Renna Necklace set? Multi-hued precious stones and charmingly delicate flower motifs, this piece is truly magical and we're not surprised that such pieces are stealing the spotlight this season.
5. The magnificently layered Nilay Long Necklace Set!
Will you ever get tired of accentuating a look with Layered necklaces? We already know the answer to that. Obviously, not! Layered necklaces tend to carry unforgettable magic.
The truly magical, Nilay Necklace Set has three astounding layers designed to perfection with precious stones, eye-catchy designs and a lot of grace.
Celebrate this season's latest jewellery trend with us. The stunning range of designer necklace sets and a wide variety of other long necklace sets awaits you at India's favourite destination for artificial Jewellery, Amaira. When are you visiting www.amaira.com?