SIGNIFICANCE OF BANGLES IN INDIAN SOCIETY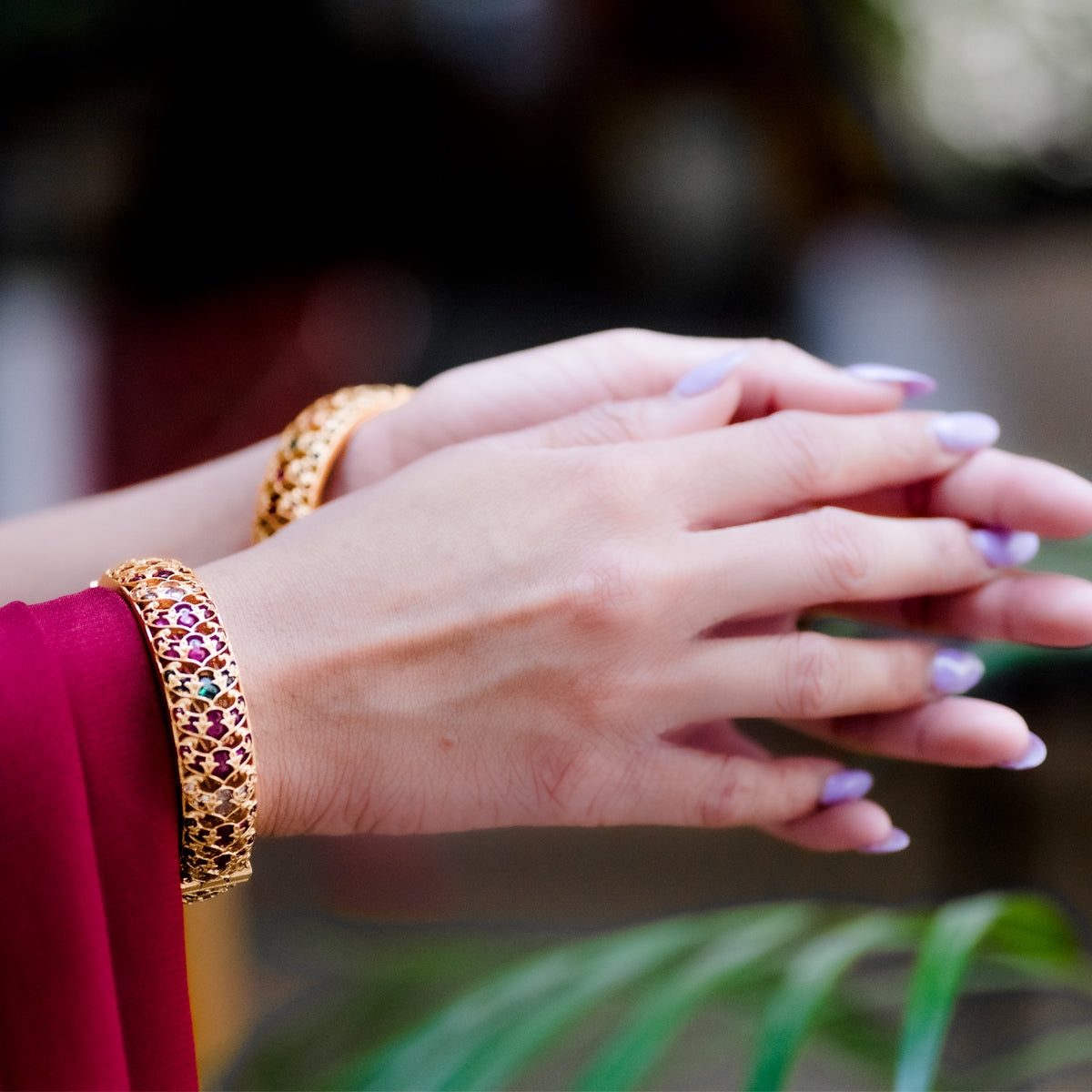 The relationship between a woman and jewellery is similar to that of a hot cup of tea with the pouring monsoons, inseparable. Jewellery enhances our everyday looks, transforms our mood and enables us to effortlessly steal the spotlight at weddings, parties or offices on a regular working day! The fulfilling sense of joy that comes from adorning stunning jewellery and being the main character of your life is unparalleled.
Our women reserve a special corner of their hearts for Bangles, the staple of Indian jewellery. In India, bangles, including artificial bangles, hold more significance than any other piece of jewellery. For a major part of the Indian population, bangles are the sign of a married woman. In the northern region, it is considered mandatory for brides and bride-to-be to wear glass bangles which are believed to secure the long life of their partner. You'd be fascinated to know that different part of India has different cultural reasons for adorning this charming jewellery. Some of the south Indian states consider it extremely auspicious for women to adorn gold bangles with their ensemble. It is customary for a newlywed in Bengal to grace her arms with conch shell bangles, coral red bangles and iron bangles. The beautiful brides of Rajasthan, Punjab and Gujarat wear bangles referred to as choodas, which differ considerably from each other in terms of colour and design.
According to the centuries-old Indian culture, different meanings are tied to differently coloured bangles. While red bangles bring energy and prosperity, green ones stand for good luck and fertility. The concept of new beginnings is marked by white coloured bangles and vibrant yellow coloured bangles signify happiness.
Stunning additions to your festivities that weave memories lasting for a lifetime, bangles have been a part of our lives for the longest time. Be it shopping from stores with the entire family or buying bangles online conveniently from home, jewellery is an indispensable element of our culture. But what could be the reason behind the legendary Indian adoration for bangles? We're calling it legendary because our culture of adorning bangles goes back to ancient times. Did you know, one of the most captivating pieces of art, a 4500 years old bronze figure of the dancing lady excavated from the Mohenjodaro site is seen wearing bangles on her right arm! The goddess of learning, Saraswati also wears mesmerizing golden bangles in her arms. In addition to that, it has been scientifically proven that bangles improve blood flow too! In the past, men used to work on farms and women handled household chores, which comparatively required less physical labour. Increasing blood pressure became an issue among women and bangles rescued them from the condition. Wearing bangles caused friction in the arms which improved blood circulation and their level of patience too.
While talking about the Indian admiration for bangles, it's unfair to not talk about Bollywood's influence in promoting and romanticizing the culture of wearing bangles. The popular dance numbers, iconic outfits that set the trend in the '90s and melodious songs that we can't stop jamming to till today; bangles have played a significant part in all of them, emanating the splendour of each celebration.
Today's women even while juggling between work and home, graces traditional, contemporary and fusion bangles embellished in precious stones and scintillating designs with ethnic and western outfits. At Amaira, we understand the trends and varying fashion needs of the new Indian woman and craft bangles that bewitch you. Don't blindly go by the claims we make, come visit www.amaira.com to explore our infinite range of exquisite Indian wedding bangles in peacock, floral and more varied designs.