TOP 5 TEMPLE JEWELLERY DESIGNS FOR YOU TO CHOOSE FROM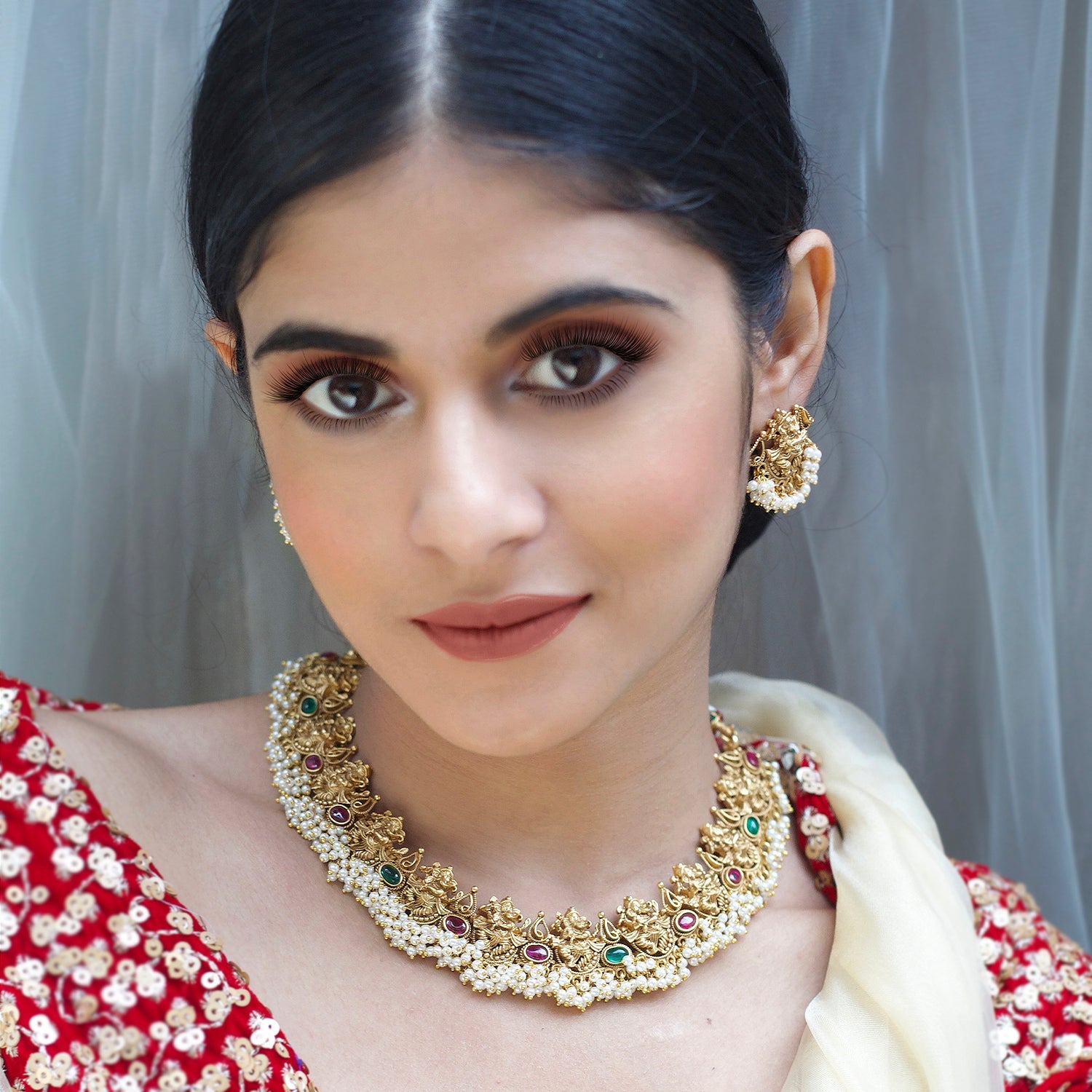 When you buy bridal temple jewellery online, make sure you do not miss out on these 5 spellbindingly stunning traditional temple jewellery designs! Before jumping into the latest Indian jewellery designs 2022, we'll give you a little background of the regal and majestic antique temple jewellery passed down from generations over centuries.
At the time of its birth, temple jewellery was created with the intent to idolize gods and goddesses. Eventually, the sublime artistic creations went into the hands of royalties at the time. Temple jewellery is known for its astonishing tiny details with divine motifs of gods and goddesses along with various other elements such as leaves, coins, trees and more.
Traditional temple jewellery is an indispensable aspect of a south Indian bridal look. Amaira, being at the forefront of designing and creating classic and contemporary masterpieces is the treasure chest for mesmerizing artificial jewellery.
Today's women are not afraid to own their style. Are you someone with a bold take on fashion? Do you prefer keeping your ethnic looks subtle? Do you have a soft spot for contemporary looks with a blend of tradition and class? The temple jewellery designs at Amaira are designed for women who proudly and unapologetically carry their style. From our broad range of alluring pieces, we've picked out 5 incredibly fabulous fashion jewellery designs you just can't help, but buy!
1. Supriya Necklace Set
Did somebody say the perfect temple jewellery set doesn't exist? An unrealistic and divine intervention in the world of fashion, the enthralling Supriya Necklace Set, from our necklace collection, with its antique and oh-so-charming elephant motifs is truly a vision. The intricate detailing in this piece is indeed admirable!
2. Neelima Bangles
Breathe in the timelessness of our stunning Neelima bangles. If you're somebody who can't let of tradition and fashion, these bangles are crafted just for you. Enhance your traditional ensemble with these antique bangles embodying the breathtaking Saraswati motifs with a bold and edgy finishing. These are one of our personal favourites from the exclusive bangles collection at Amaira.
3. Avyanna Long Haram
The Avyanna Long Haram with its vibrantly hued precious stones and minimal designs carries one of a kind sophisticated feel. Be it a quick temple visit or the most awaited close friend's wedding, this piece will add poise and elegance to your attire instantly. This piece is for the woman who lives by the principle, less is always more
4. Hayat Choker Set
The ethereal Hayat Choker set will steal anybody's attention with a taste in fashion. A union of the traditional coin, mango and goddess Saraswati motifs all in one artistic creation, the Hayat choker set is a piece that will perfectly complement the millennial bride with its royal touch. You'll find more such choker sets in our exquisite collection.
5. Dajshi Antique Hangings
The elegantly radiant Dajshi earrings are truly a vision. It'll add a pop of colour to your outfit without overpowering it with its magnificence. The goddess Saraswati motifs, colourful beads and minute detailing in these earrings showcase a fresh take on traditional temple jewellery, as we know it today. Adding a sophisticated feminine touch to your overall attire, these earrings are indescribably charming!
Wearing jewellery has never been and will never be just about looking good. Every piece of jewellery you wear speaks volumes about who you are. At www.amaira.com, we've got numerous astonishing pieces of mesmerizingly crafted temple jewellery for women with varied tastes and individuality!